The uMkhuze section of the iSimangaliso Wetland Park has seen 3 lion translocations in the last couple of months. 5 lions (3 females and 2 males) were introduced into the reserve and 2 uMkhuze males were relocated to another protected area.
These movements form part of Ezemvelo KZN Wildlife's lion management plan for uMkhuze. An important aspect of this is ensuring genetic variation in their lion population. Genetic diversity creates a greater opportunity for resilience, strengthening a species ability to resist disease and other environmental changes or stressors.
Earlier this year, two young male lions need to be removed from uMkhuze's population. They had become of "mating age" and were at risk of breeding with their mother or sister. While both lions were collared, it took months for the vets to get a darting opportunity. Dr. Emma Westley (supported by African Wildlife Vets) explained what happened: "These males gave us a real run for our money. We spent months trying to dart these elusive brothers who resisted our attempts to tempt them into open areas on many occasions. The three vets from the Ezemvelo KZN Wildlife veterinary unit (including myself) tried more than once to dart these lions. Sometimes we didn't see them at all but the tracking system indicated that they were within 20 meters of us on some occasions. They just would not come out of the bush. Typically, they'd be seen between our visits and we'd race back, only for them to be back in the thick areas by the time we returned. Finally, in the last week of April, one of the other vets managed to dart one of them and he was placed in a boma. Less than a week later I managed to dart the other one." They were finally, successfully relocated to another protected area.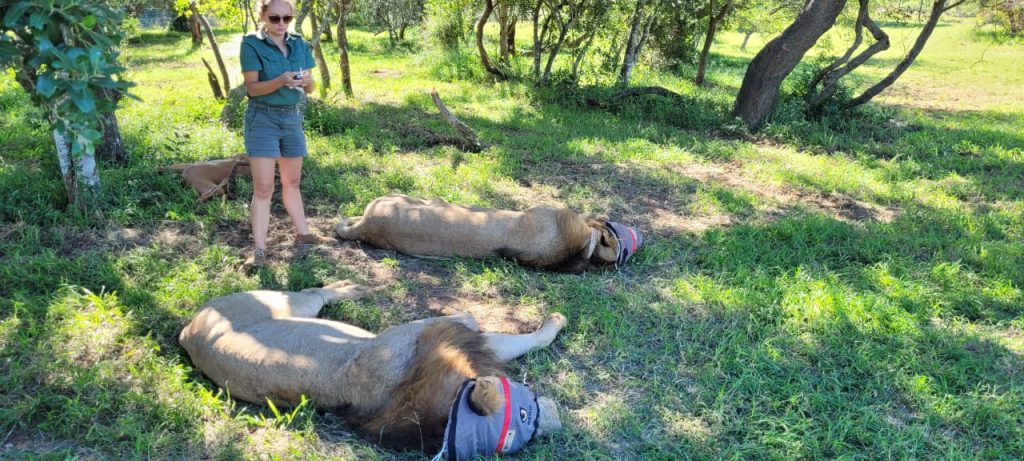 Three lionesses were introduced into uMkhuze and a couple of months later two male lions were translocated to the reserve. Before their release into the reserve, all 5 animals had a tracking collar placed on them. Dr. Westley assisted with the collaring of the lionesses and Ezemvelo KZN Wildlife veterinarian Dr. Rowan Leeming assisted in collaring the two males.
Placing tracking collars on priority species will assist the EKZNW management with monitoring their movements and activity. Collaring has become an essential tool in the monitoring of threatened species as it assists conservation managers with identifying human wildlife conflict points, such as when animals leave the boundaries of protected areas or when they are in distress. In addition to this, it develops an understanding of preferred habitat and distribution. Wildlife ACT provide Ezemvelo KZN Wildlife with a monitoring service and their uMkhuze monitoring team will assist with tracking the movement of these lions. African Wildlife Vets is proud to support the Ezemvelo KZN Wildlife veterinary unit with the provision of pharmaceuticals, equipment and veterinarians.