No one ever says what a great experience they had when they found that spitting cobra behind their cupboard or black mamba under the bed. Snakes are known to create fear and panic and many people may be tempted to kill them to get rid of the problem or of the potential danger.
We recently had Durban's well-known professional snake handler, Nick Evans visit us in Hluhluwe iMfolozi Park to assist with the removal of a black mamba out of the roof of a public area and to give a presentation to the staff. African Wildlife Vets veterinarian Dr. Rowan Leeming shares his experience and this story with you below: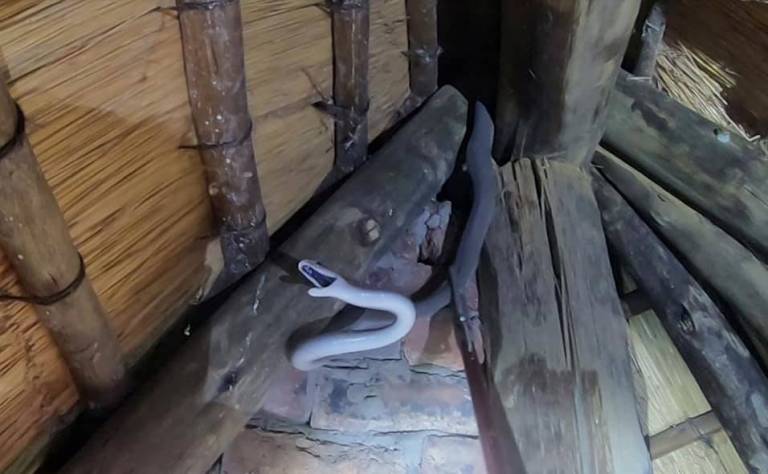 Let me start this story by saying that I love snakes. Over my years, especially being in Hluhluwe iMfolozi Park (HiP), I have been privileged enough to run into (and catch) many different species of snakes, one of which was a species I told myself I would never go near; the Mozambique Spitting Cobra or "Mfezi" as it's called in Zulu. Nowadays, I've become quite handy at catching them, even though I don't necessarily have the proper equipment (Golf clubs and sunglasses tend to just work!). One species that I have not faced enough, or at all for that matter, is the black mamba.
Their reputation as one of the most venomous snakes in the world is enough to make anyone give them a wide birth. Couple this with the precarious positions you find them in, and all of a sudden you have a very dangerous situation on your hands, without the proper expertise. This is what happened in this story; a black mamba took residence in a thatch roof at a tourist hot spot. Unfortunately, because of their (misunderstood) reputation, they are often met with a fatal end when coming into contact with humans.
I didn't want that to be the case in this situation, even if I was out of my depth at catching it. Enter Nick Evans! Most people have heard of famous snake handler Nick Evans from his daring series on TV or his podcasts on East Cost Radio, and so I decided to give Nick a call to see if he would be willing to give us a hand with our little situation. This story follows a memorable weekend in my books, and meeting a great conservationist, who had more in common with me than I realised; Not only is Nick from my hometown, it was great to find out that Nick is a fellow Westville Old Boy!
A couple of weeks ago, I received a call from the HiP Centenary Centre. A Black Mamba had been seen and some of the staff were scared. When I went to investigate, I was secretly hoping that the staff had mistakenly identified a black snake as a Mamba, and that it might be a species that is a bit more manageable. However, when I arrived and was shown the snake, they were spot on with the ID of a large Black Mamba. The snake's location complicated matters even more; it was perched on the high centre beam of a thatch roof. I realised that I was severely out of my depth. Not only was I to catch and remove this snake safely, but it needed to be in a way that was safe for myself and to others.
While assessing the situation at hand, over and over, with zero experience, a decision was busy being made behind me; instead of a risky capture attempt and potentially losing the snake somewhere in the building, they were debating the option to destroy it. Snakes often have a bad reputation, and unfortunately, this is often their fate in a misunderstood situation. I was frantically trying to go through different alternatives than this common end to a lot of snakes. Somewhere, someone along the line mentioned "if we could only get up Durban's famous snake catcher Nick Evans". With nothing to lose, I managed to find Nick's number and gave him a call on the spot. When I explained the situation to him, Nick answered with great enthusiasm and willingness to help, only he had a busy week planned and would only be able to make it up that Friday afternoon. Black Mambas are creatures of habit and it had been established that this was a resident snake that was seen often. I told him that we would try monitor it until Friday. I explained to the staff, that it would be dangerous to attempt to destroy the snake and discharging a firearm in such a confined space would be even more dangerous. They understood and were also very grateful that help from a professional was going to come later in the week.
Every day that week I popped in and spoke with the staff. The snake stayed put in the same position for almost the whole week and fortunately on the Friday, just before Nick arrived we managed to locate her. As soon as Nick arrived, he dived straight into action. After spotting her, he swiftly climbed into the ceiling, where a part of her long body was showing. In no time at all, and in a way that looked far too easy, he had gripped the large mamba with his snake tongs, gently guided her out of the small space she was perched in, and then safely secured her head with his one hand while she came out the hole completely and wrapped around Nick's arm. I passed him the snake bucket and she was placed safely inside before being removed from the ceiling. In a flash, it was over and the Mamba was secured.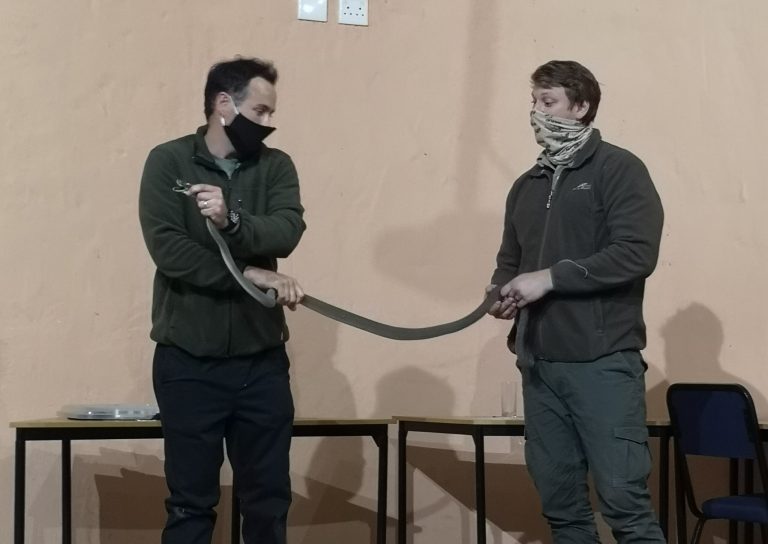 Nick had also brought up a few of his snakes that he had rescued and was holding onto for demonstration purposes before releasing them. Throughout the week, much interest had grown in the park around this unusual capture operation, and Nick kindly obliged to giving the staff and whoever was interested an educational snake talk. Nick enjoyed the great turnout of the park's staff in the (now safe) Centenary Centre auditorium, and gave a great presentation and demonstration of a few of his reptile friends, including a large puff adder, a vine snake and of course the resident black mamba that was caught the night before.
The mamba was kept in her temporary bucket, and kept warm and protected from one of the worst cold fronts to hit KZN this year. When the cold front on the weekend had passed, she was released on Monday, into the wilderness section of the Hluhluwe iMfolozi Park.
It was a great honour to meet Nick Evans and hear about his escapades of rescuing snakes and reptiles around the province. His dedication and passion for these unique animals and their conservation is truly admirable. His professionalism resonates with the sheer ease and understanding one can visibly see when he handles these misunderstood creatures. We would like to thank Nick greatly for the work that he does, and coming up to help us with our (minor) situation. It was an awesome (but very cold!) weekend and we look forward to working with Nick in the future.